Incubators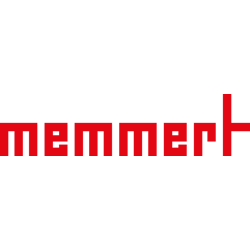 Contact person
Memmert incubators are at home in the world of research, medicine, pharmaceutics and food technology. Organic chamber loads require gentle heating. For this reason, the heating and control systems are especially optimised for low temperatures of up to +80 °C. To prevent temperature overshoots, temperature is increased within a very narrow control range and kept exactly at the setpoint value.
Adjustment of pre-heated fresh air admixture by air flap control in 10 % steps.
Adaptive multifunctional digital PID-microprocessor controller with high-definition TFT-colour display.
Self-diagnostics for fault analysis.
One Pt100 sensor DIN class A.
Digital backwards counter with target time setting, adjustable from 1 minute to 99 days.
Parameters adjustable on ControlCOCKPIT: temperature (Celsius or Fahrenheit), air flap position, programme time, time zones, summertime/wintertime.
SetpointWAIT function - the process time does not start until the set temperature is reached.
Resolution of display for setpoint and actual temperature values 0.1 °C.
Programme stored in case of power failure.
Delivered with works calibration certificate for +37 °C.
Adjustable electronic overtemperature monitor and mechanical temperature limiter TB, protection class 1 according to DIN 12880 to switch off the heating approx. 20 °C above nominal temperature.
Fully insulated stainless steel door with 2-point locking.
Inner glass door.
Easy-to-clean interior, made of stainless steel with large-area heating of four sides.
Incubators are available with natural convection (IN models) or forced air circulation (IF models).
Incubator control model variants: SingleDISPLAY or TwinDISPLAY.
SingleDISPLAY models is recommended for standard temperature control applications with insensitive load.
TwinDISPLAY models are recommended for maximum convenience with complex processes.
| | | | | | | | | |
| --- | --- | --- | --- | --- | --- | --- | --- | --- |
| Model/Parameter | 30 | 55 | 75 | 110 | 160 | 260 | 450 | 750 |
| Volume, l | 32 | 53 | 74 | 108 | 161 | 256 | 449 | 749 |
| Interior width, mm | 400 | 400 | 400 | 560 | 560 | 640 | 1040 | 1040 |
| Interior height, mm | 320 | 400 | 560 | 480 | 720 | 800 | 720 | 1200 |
| Interior depth, mm | 250 | 330 | 330 | 400 | 400 | 500 | 600 | 600 |
| Max. number of shelves | 3 | 4 | 6 | 5 | 8 | 9 | 8 | 14 |
| Max. loading per shelf, kg | 20 | 20 | 20 | 20 | 20 | 20 | 30 | 30 |
| Max. loading of chamber, kg | 60 | 80 | 120 | 175 | 210 | 300 | 300 | 300 |
| Exterior width, mm | 585 | 585 | 585 | 745 | 745 | 824 | 1224 | 1224 |
| Exterior height, mm | 704 | 784 | 944 | 864 | 1104 | 1183 | 1247 | 1720 |
| Exterior depth, mm | 434 | 514 | 514 | 584 | 584 | 684 | 784 | 784 |
| Electrical load at 230 V, 50/60 Hz, W | 1600 | 1000 | 1250 | 1400 | 1600 | 1700 | 1800 | 2000 |
| Net weight, kg | 48 | 57 | 66 | 74 | 96 | 110 | 161 | 217 |