Vacuum ovens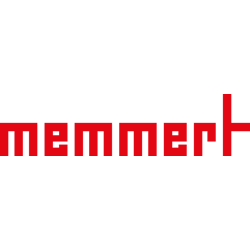 Contact person
The vacuum oven is classic appliance from Memmert for temperature control in science, research and material tests in industry. TwinDISPLAY models are recommended for maximum convenience with complex processes. An electronic PID controller with an integrated self-diagnosis system ensures reliable and exact temperature control.
Temperature measured through 4-wire Pt100 sensor individually for each thermoshelf.
Digital electronic pressure control for a speed-controlled vacuum pump.
Adaptive multifunctional digital PID-microprocessor controller with 2 high-definition TFT-colour displays.
Self-diagnostics for fault analysis.
Digital backwards counter with target time setting, adjustable from 1 minute to 99 days.
SetpointWAIT function - the process time does not start until the set temperature is reached.
AtmoCONTROL software for programming, managing and transferring programmes via Ethernet interface or USB port.
Programme stored in case of power failure.
Delivered with works calibration certificate for +160 °C at 20 mbar pressure.
Overtemperature protection with audible and visual alarm.
Mechanical temperature limiter TB, protection class 1 according to DIN 12880 to switch off the heating approx. 10 °C above nominal temperature.
Full-sight glass door, 15 mm thick glazed panel in safety glass, outside with anti-splitter screen.
Easy-to-clean interior, made of stainless steel.
Model/Parameter

VO29

VO49

VO101

Volume, l

29

49

101

Permitted final vacuum, mbar

0.01

0.01

0.01

Maximum leakage rate, bar/h

0.01

0.01

0.01

Interior height, mm

305

385

465

Interior width, mm

385

385

545

Interior depth, mm

250

330

400

Working temperature range, °C

at least 5 °C above ambient

temperature to +200 °C

Thermoshelves of aluminium (standard equipment)

1

1

1

Max. number of thermoshelves

1

2

2

Max. loading per thermoshelve, kg

20

20

20

Max. loading of chamber, kg

75

75

95

Exterior width, mm

550

550

710

Exterior height, mm

607

687

767

Exterior depth (without door handle),

door handle +38 mm, mm

400

480

550

Electrical load at 230 V, 50/60 Hz, W

820

2020

2420

Net weight, kg

55

83

110