CO2 incubators ICOmed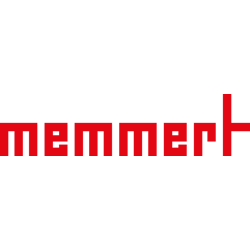 The control system of the Memmert CO2 incubator ICOmed is so finely tuned that the appliance reaches the setpoint temperature very quickly and without temperature overshoots. Alarm notifications to your mobile phone guarantee the safety of the chamber load, and the battery-buffered ControlCOCKPIT ensures continuous CO2 control even when there is a power failure. Ideal hygiene is a given too: rounded edges enable easy and thorough cleaning, the interior can be sterilised within 60 minutes at 180 °C. Memmert is bringing medical devices of class IIa into circulation according to MDD 93/42/EEC until 26 May 2024 according to the transitional provisions by the (EU) 2017/745 article 120 (2).
Temperature range up to +50 °C.
4 model sizes (with a chamber volume of 56 to 241 litres).
Fail-safe, FDA-compliant logging of temperature, CO2, O2, humidity, open door time data.
Battery-buffered ControlCOCKPIT: The operating display, logging and CO2 control are fully functional even during a power failure.
Visual and acoustic alarm as well as alarm notification to mobile phones if the individually adjustable temperature, CO2, O2, or humidity ranges are exceeded.
Active humidity control.
The interior chamber, including all installations and sensors, can be sterilised at +180 °C in a 60-minute programme.
| | | | | |
| --- | --- | --- | --- | --- |
| Model/Parameter | 50 | 105 | 150 | 240 |
| Volume, l | 56 | 107 | 156 | 241 |
| Interior width, mm | 400 | 560 | 560 | 600 |
| Interior height, mm | 425 | 480 | 700 | 810 |
| Interior depth, mm | 330 | 400 | 400 | 500 |
| Max. number of shelves | 5 | 6 | 10 | 12 |
| Max. loading per shelf, kg | 15 | 15 | 15 | 15 |
| Max. loading of chamber, kg | 75 | 90 | 120 | 140 |
| Exterior width, mm | 559 | 719 | 719 | 759 |
| Exterior height, mm | 795 | 850 | 1070 | 1180 |
| Exterior depth, mm | 521 | 591 | 591 | 691 |
| Electrical load at 230 V, 50/60 Hz, W | 1100 | 1300 | 1500 | 1650 |
| Net weight, kg | 55 | 75 | 90 | 110 |