Quality policy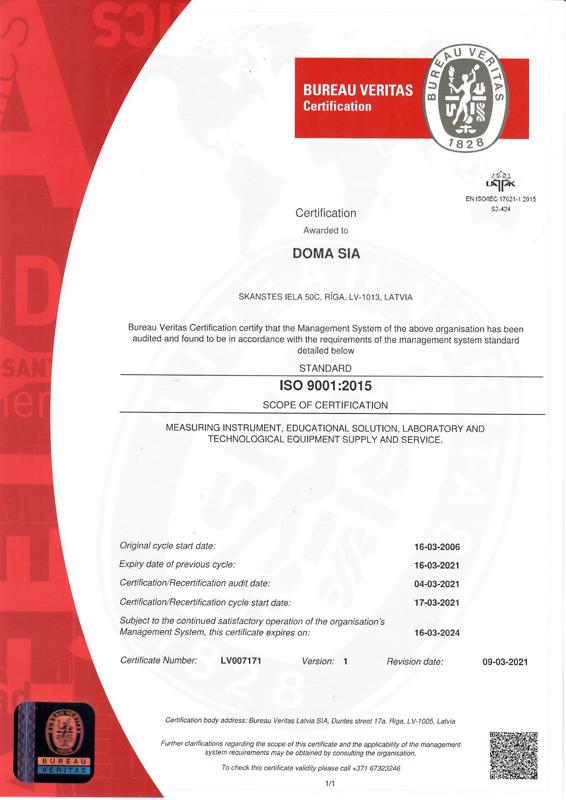 DomaGroup is a group of companies providing technology services and consulting, offering efficient and economically sound solutions to their customers. The offer includes high-quality measuring instruments and measurement systems, laboratory and industrial equipment, equipment for education, as well as software and services related to equipment - installation, commissioning, training, warranty and post warranty maintenance and service.
Mission
"Science is the fuel of economic growth, technology - its engine, jointly creating new jobs and new businesses, thereby improving the quality of our lives." Our mission is to create and promote the growth of our customers based on technological innovation. Our ultimate goal - to be a contribution in creating a society based on knowledge.
The Vision
Become a leading group of companies working in area of technological services and consulting in the region of Baltics, which in collaboration with its customers improve the quality of life of every member of society, at the same time providing competitive jobs for our employees. Being a reliable partner for our customers, ensure the continuity of our services and promote competitiveness with innovative solutions.
Responsibility
DomaGroup companies operate in compliance with all laws and regulations governing the company's obligations and responsibilities in each individual country.
Honesty
We value our customers and business partners trust and loyalty of our employees based on long-term commitments and mutual obligations.
Reputation
Our name is synonymous with high quality and performance of obligations. We listen to the wishes and needs of each client and offer them high-quality solutions.
Quality
We believe that the higher price the customer pays for high-quality equipment and services in the long term will be compensated by the increased competitiveness of the client's business. Therefore you will find only the top quality equipment and services in our offer.
Employees
We want to be the leading companies in our market segment! We recognize that the value and strength of our companies is our highly professional staff. We listen to our employees, treat them openly and sensitively. We provide our employees a comfortable working environment. Company employees are aware of the management objectives and perform their duties creative and responsible. We are pleased to support the commitment of our employees for training and education. While working as a team, our employees are actively involved in all levels of business activity.
Growth and Income
Carefully observing the changes in the market demand, services provided are constantly improved and expanded, thus ensuring higher and higher standards of quality and stability, which in turn contribute to the sustainable and healthy growth of companies, reasonable profitability, independence, and long-term development.