Wheel tracking test apparatus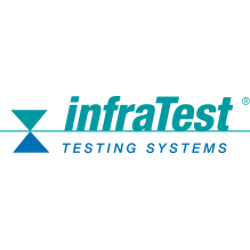 Standard: EN 12697-22
The apparatus consists of a steel plate casing with stainless steel interior 1.4301 and hinged cover with viewing glasses.
Two measuring places with rolling wheel units guided in precision bearing elements and driven by a frequency controlled motor.
Load is applied via a lever system
The inner chamber can be heated either with water or with a heating system.
To enable the installation of samples into the testing place, both rolling wheel units can be stopped in a parking position outside the testing area.
Included are two easily interchangeable rolling wheels with rubber coating.
Two motorized lifting units controlled by the integrated software are used to sink down the wheels at the beginning of a test and to lift them up afterward.
The whole process including heating, registration of test temperatures, number of overrollings and tracking depths is software controlled with the possibility of print-out and selectable testing programmes.
The user himself can create and memorize his own test sequences and programmes.
Supplied with integrated input/output unit with touch screen.
53 / 52 passes per min.
Applied load: 710 N.
Range of water temperature: 30 - 70 °C.
Track groove depth: 0 - 20 mm x 0.01 mm.