WALDNER
Innovative and complete solutions for education
WALDNER Laboreinrichtungen GmbH & Co. KG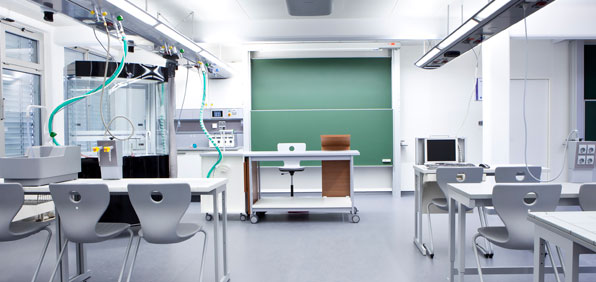 Haidoesch 1
88239 Wangen, Germany
Contact person
WALDNER Laboreinrichtungen GmbH & Co. KG is the technological market leader for multi-functional systems in classrooms for natural sciences with telematic function. Excellent design and ideal function complement one another perfectly in modular system SCALA. Hohenloher has been manufacturing school systems in the town of Wangen im Allgäu for more than 60 years now.
The starting points for developing SCALA modular system were the requirements of the market and Waldner design expertise. Specialists review the latest results of research in ergonomics, ecology, accessibility and health & safety, and bring them together in production and installation with the greatest of care. As a result, Waldner can guarantee the best possible function and the highest level of safety for users.
SCALA can be used for seven subjects because of its modular structure: chemistry, physics, biology, telematics/information technology, technology, domestic science and general teaching – or a combination of various subjects. In the new multifunction rooms, teachers and schoolchildren will find working conditions that are comparable to those in a modern company, including computer networks.
Waldner objective is to offer the best possible quality, mature technology, the best project management and perfect service. Numerous industrial property rights & patents demonstrate the technologically leading position that they have achieved and are continuously building on.
Waldner product range is continuously inspected by the TÜV, Germany's safety inspectorate organization, to make sure it is in line with legislation on equipment safety. Fume cupboards are tested according to European standards.