Sterilisers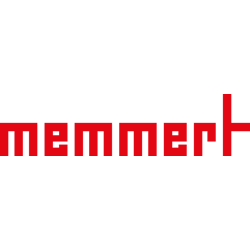 Contact person
Medicine has the goal of protecting and saving lives. Therefore, disinfection of receptacles and instruments is not enough. The setpoint-dependent programme resume function SetpointWAIT of Memmert hot air sterilisers guarantees precise sterilisation times and the complete killing off of even the most resistant microorganisms. The appliances comply with all relevant national and international standards and requirements for medical devices and can be validated without problems.
Adjustment of pre-heated fresh air admixture by air flap control in 10 % steps.
Adaptive multifunctional digital PID-microprocessor controller with high-definition TFT-colour display.
Self-diagnostics for fault analysis.
One Pt100 sensor DIN class A.
Digital backwards counter with target time setting, adjustable from 1 minute to 99 days.
Parameters adjustable on ControlCOCKPIT: temperature (Celsius or Fahrenheit), air flap position, programme time, time zones, summertime/wintertime.
SetpointWAIT function - the process time does not start until the set temperature is reached.
Resolution of display for setpoint values 0.1 °C up to 99.9 °C, 0.5 °C from 100 °C and for actual values 0.1 °C (LED).
Programme stored in case of power failure.
Delivered with works calibration certificate for +160 °C.
Adjustable electronic overtemperature monitor and mechanical temperature limiter TB, protection class 1 according to DIN 12880 to switch off the heating approx. 20 °C above nominal temperature.
Fully insulated stainless steel door with 2-point locking.
Easy-to-clean interior, made of stainless steel with large-area heating of four sides.
Sterilisers configurations:
SN models - sterilisers with natural convection.
SF models - sterilisers with forced air circulation.
Sterilisers control variants:
Standard SingleDISPLAY models is recommended for standard temperature control applications with insensitive load.
plus TwinDISPLAY models are recommended for maximum convenience with complex processes and programming features.
Model/Parameter

SN30

SF30

SN30plus

SF30plus

SN55

SF55

SN55plus

SF55plus

SN75

SF75

SN75plus

SF75plus

SN110

SF110

SN110plus

SF110plus

SN160

SF160

SN160plus

SF160plus

SN260

SF260

SN260plus

SF260plus

SN450

SF450

SN450plus

SF450plus

SN750

SF750

SN750plus

SF750plus

Volume, l

32

53

74

108

161

256

449

749

Interior width, mm

400

400

400

560

560

640

1040

1040

Interior height, mm

320

400

560

480

720

800

720

1200

Interior depth, mm

250

330

330

400

400

500

600

600

Max. number of shelves

3

4

6

5

8

9

8

14

Max. loading per shelf, kg

20

20

20

20

20

20

30

30

Max. loading of chamber, kg

60

80

120

175

210

300

300

300

Exterior width, mm

585

585

585

745

745

824

1224

1224

Exterior height, mm

704

784

944

864

1104

1183

1247

1720

Exterior depth, mm

434

514

514

584

584

684

784

784

Electrical load at 230 V, 50/60 Hz, W

1600

2000

2500

2800

3200

3400

Electrical load at 400 V, 50/60 Hz, W

5800

7000

Net weight, kg

46

57

66

74

96

110

161

217